We're Getting Mutants in the MCU - The Loop
Play Sound
Anchors Aweigh is a 1945 Technicolor musical comedy film featuring a scene with Tom and Jerry. It was directed by future Hanna-Barbera co-founder George Sidney and it starred Frank Sinatra, Kathryn Grayson, and Gene Kelly. In the film, two sailors go on a four-day shore leave in Hollywood, meet a young boy and his aunt, an aspiring young singer, and the sailors try to help her get an audition at Metro-Goldwyn-Mayer.
Plot
Gunner's Mate Second Class Joe Brady and Seaman First Class Clarence Doolittle are USN sailors who have a four-day leave in Hollywood. Joe has his heart set on spending time with his girl (the never seen) Lola. Clarence, the shy choir boy turned sailor, asks Joe to teach him how to get girls. Donald, a little boy who wants to join the navy, is found wandering around the boulevard by a cop, who takes him to the police station. Clarence and Joe end up being picked up by the cops to help convince Donald to go home. After the two sailors wait at home and entertain Donald, Donald's Aunt Susie arrives. Clarence is smitten with her from the beginning. Susan goes on to tell them that she has been trying to find work in music, and longs to perform with José Iturbi. Trying to make Susan impressed with Clarence, Joe tells her that Clarence is a personal friend of Iturbi, and that he has arranged an audition for Susan with him. That night, they go out to a cafe (on an MGM recreation of Olvera Street) where Clarence meets a girl from Brooklyn, and they hit it off. The next day, Joe visits Donald's school, and tells the kids the story of how he got his medal, and how he brought happiness to a lonesome king (played by Jerry the Mouse in an animated sequence), and joy to the forest animals of the kingdom.
Meanwhile, Clarence has been trying to get into Metro-Goldwyn-Mayer Studios to find Iturbi with no luck. After many failed attempts to speak to Iturbi (including a rehearsal at the Hollywood Bowl), all hope is lost for Joe and Clarence, who want to come clean with Susan and tell her there was no audition. On Clarence and Joe's last day of leave, Susan runs into Iturbi In the studio commissary who has no idea of the audition. Susan begins to call Joe, whom by now she has fallen in love with, to yell at him. Iturbi stops her and agrees to get her a screen test, which turns out to be very successful. The movie ends as Iturbi conducts the choir in singing "Anchors Aweigh", while Joe and Susan, and Clarence and the "Girl from Brooklyn," kiss.
Tom and Jerry scene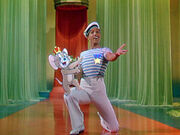 Jerry (voiced by Sara Berner) appears as the ruler of a kingdom where music is banned because he feels he lacks talent, and Joseph "Joe" Brady (played by Gene Kelly) persuades the mouse into performing a song-and-dance number with him.
Tom appears as Jerry's butler.
Production
MGM originally wanted Walt Disney's Mickey Mouse as Kelly's dance partner for the sequence, but Disney was unwilling to license the character.
Hanna and Barbera achieved the effect of Kelly dancing with Jerry by rotoscoping: live-action plates of Kelly dancing alone were shot first, and the action traced frame by frame so that Jerry's movements would match.