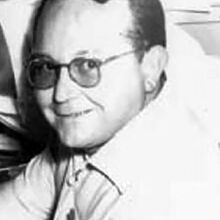 Benjamin Alfred Washam (March 15, 1915 - March 28, 1984) was an American animator who is best known for working under director Chuck Jones for nearly 30 years. Washam worked at Warner Bros. Animation from 1941 until 1962, mainly under the direction of Chuck Jones. He also worked on made-for-television cartoons in the early 1960s. After Jones was fired from Warner Bros, Washam with other animators working under Jones at Warner Bros. joined Jones at MGM; he also directed a few Tom and Jerry cartoons for release in 1967. For several years beginning in the fall of 1967 Washam, a gifted natural teacher, gladly taught animation at no charge to eager, young students in weekly classes conducted at his Laurel Canyon home in Los Angeles. He explained that "animation has been good to me and I want to give something back." Indeed he did. Many of Ben Washam's students from the late 1970s, which included Ren and Stimpy layout artist Eddie Fitzgerald, went on to lead the 2D silver age animation revival during the 1990s. Few people were better at boiling down animation mechanics into pertinent, useful methods. There were arguably better animators but none with Washam's stellar gift for articulating and communicating the principles of his craft. Washam was also a very effective cartoonists' union president, serving two separate terms. He did his last work animating commercials for Jay Ward and drawing layouts at Jones' own production company, and retired in 1979. In addition to Washam's animation skill, Jones cited him as an able writer based on a 1981 letter as quoted in Chuck Reducks. Jones credited Washam with the "thanks for the sour persimmons, cousin" line in Duck Amuck.
Community content is available under
CC-BY-SA
unless otherwise noted.