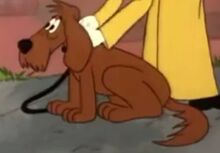 The Brown Dog is a minor one-time character from The Tom and Jerry Comedy Show's episode "Star-crossed Wolf"
the dog was used to sneak in him and Slick Slick to blend in looking like a guard with his guard dog, until Droopy lures the dog into chasing a cat.
Appearance
Personality
Trivia
The dog was briefly owner is Slick Wolf.
This is ownership is similar to a museum guard and his dog Bruno.