Wiki Targeted (Entertainment)
Play Sound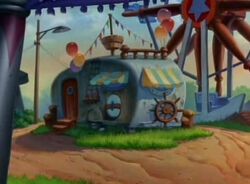 Cap'n Kiddie's Water Carnival is a riverside carnival owned and operated by Captain Kiddie and his hand puppet Squawk. It's only appearance was in Tom and Jerry: The Movie.
Information
Tom and Jerry: The Movie
After finding a raft under a bridge while running away, Robyn Starling, Tom and Jerry took it down the river, in an attempt to elude Aunt Figg and Lickboot. Later that same night, the raft collided with a large ship, tearing the raft to shreds and separating Robyn, Tom and Jerry from each other. Early the next morning, Robyn was found unconscious on the shore near the carnival by Captain Kiddie and Squawk. After the ship accident, she had floated downstream, clinging to a remaining piece of the raft. Captain Kiddie brings her to his trailer and let's her rest. A few days later, Robyn wakes up and gets startled by Squawk. Captain Kiddie asks her if she is okay, she says that she's a little dizzy. Captain Kiddie and Squawk then perform a musical number to cheer her up, and afterwards they sit down to some milk and cookies. Squawk notices Robyn's picture, and the reward for her on the back of the milk carton and persuades Kiddie to step outside for a moment. When Captain Kiddie realizes he's got the missing girl on the carton and that he's about to be rich, he excitedly telephones Aunt Figg. Sometime later Captain Kiddie shows Robyn around the carnival and suggests that she goes for a ride on the Ferris wheel. Robyn, loving Ferris wheels, eagerly gets on the ride, but it's a trap. Captain Kiddie traps her up on the top of the wheel, so she can't run away and Aunt Figg and Lickboot can retrieve her. Later on while Captain Kiddie is taking a nap, Tom and Jerry find Robyn at the carnival. They return her locket they found on the shore, and plan to free her from the Ferris wheel. Moments later, Aunt Figg and Lickboot arrive, followed by Dr. Applecheek's henchmen. They all race to get to Robyn, but the henchman are thwarted by Tom and Jerry, which results in them getting trapped on top of the Ferris wheel. Robyn, Tom and Jerry then steal the carnival's riverboat to continue running from Figg, which results in everyone else having a wild race up the river to catch her. The fate of the carnival is unknown, as Captain Kiddie was probably arrested for kidnapping Robyn.