Jurassic World: Dominion Dominates Fandom Wikis - The Loop
Play Sound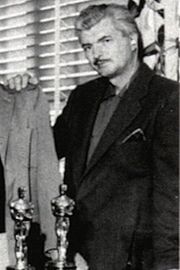 Kenneth Lee Muse, (or Ken Muse) (July 26, 1910-July 26, 1987) was an American animator, who is best known for his work on the Tom and Jerry series.
History
Walt Disney Studios
Muse was briefly employed at Walt Disney studios, where he started off as an assistant to Preston Blair (The main animator on "The Sorcerer's Apprentice", he himself would join Tex Avery's unit the same year Muse joined.) working alongside him and a few others on the 1940 film Fantasia. Afterwards he became a full-fledged animator, working on several Mickey Mouse and Donald Duck shorts. After the 1941 Disney strike, he left the studio to work at MGM.
MGM
After leaving Disney, he set off for MGM, where he was employed in the Hanna-Barbera unit. The first short he worked on was 1942s Fine Feathered Friend. He brought the skills he learnt while at his Disney tenure with him to MGM. He typically animated the slower, and more methodical scenes. (Though he still did do some wacky animation, namely in 1944s "The Zoot Cat.) From 1942-1958, he worked on all but one of the original Tom and Jerry shorts.
He, alongside Ed Barge and Ray Patterson worked on the Gene Kelly dance scene with Jerry in the movie, "Anchors Aweigh". The film would go on to win multiple Academy Awards. He also animated, along with Barge and Irven Spence some scenes that briefly starred Tom and Jerry in the movie Dangerous When Wet. He left MGM's animation department (and the studio overall) in 1957, to work at William Hanna and Joseph Barbera's new studio, Hanna-Barbera.
Hanna-Barbera
After the animation department in MGM closed down in 1957, Muse, alongside many others moved to Hanna and Barbera's new studio, Hanna-Barbera. Of the many animators there, he was arguably one of the most experienced. He animated and worked on numerous shows during his tenure at H-B. Including the pilot for The Flintstones. He spent the rest of his career at H-B, although briefly worked at DePatie-Freleng Enterprises around the early 70s, up until his death in 1987.
Tom and Jerry
Style
Since he was a former Walt Disney animator, his style is very reminiscent of how Disney shorts were animated. His characters squash and stretch, he rarely exaggerates his animation, and before "Safety Second" (1950) he was very fond of giving Tom three chest bumps. Here are some examples;
Shorts
1942
Fine Feathered Friend (credited on original print???)
1943
1944
1945
1946
1947
1948
1949
1950
1951
1952
1953
1954
1955
1956
1957
1958
Trivia
He was a chain-smoker, one of his friends visited his desk while he was away and found tons of cigarette butts, and multiple burns.
Alongside his work on The Flintstones, he also contributed to many other series' including, The Huckleberry Hound Show, The Yogi Bear Show, and later in his career, Jabberjaw, and The Smurfs.
He never worked on Little School Mouse oddly enough, though it's likely cause he was working on a 1954 educational short directed by another MGM cartoon employee named Gene Hazelton, Mr. Winkle Returns.
He had a hearing problem, and wore hearing aids.