Wiki Targeted (Entertainment)
Play Sound
Mammy Two Shoes (also known as Mammy, Mammy Two-Shoes, or Dinah in the 1940s Tom and Jerry comics), is a recurring character who appeared in 19 of MGM's Tom and Jerry cartoons. She is a heavy-set, middle-aged African-American woman who often has to deal with the mayhem generated by the lead characters, but whether she is the owner of the home or merely the house-keeper is never really made clear.
As a partially-seen character, she was famous for never showing her head and face (although it is briefly visible in Saturday Evening Puss and Part Time Pal). Mammy's appearances have often been edited out, dubbed, or re-animated as a slim white woman in later television showings, since her character is a mammy archetype now often regarded as racist. Her character was greatly inspired by Oscar-winning African-American actress and singer Hattie McDaniel, best known for playing "Mammy" in MGM and David O. Selznick's 1939 film.
A character very similar to Mammy Two Shoes had earlier been portrayed in the Disney Silly Symphonies shorts Three Orphan Kittens and More Kittens, as well as the Pluto short Pantry Pirate and the Figaro short Figaro and Cleo. A similar character Petunia the Mammy actually shows her face which (of course) resembles blackface in the Little Audrey cartoon series.
Appearance
With dark brown skin (later changed to an ivory-colored skin tone) she is distinguished by her usual, sleeveless dress with frills in the shoulders, a white apron with frills in the trim, old, yellow socks (often seen with some kind of suspender holding it up), and red slippers. The color of her attire often changes, but the pieces remain virtually the same. These colors are yellow, orange, green, blue, and red. She is usually seen holding a broom.
She is of mid-stature with dark skin, slightly rotund with a large bust and thick hands.
Theatrical Tom and Jerry cartoons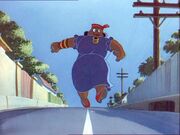 Mammy first appeared in Puss Gets the Boot, the first Tom and Jerry cartoon (except Tom was called "Jasper"). She always referred to Tom as his given name Thomas and almost always used "is" in conjunction with a pronoun ("is you" and "I is"). The character went on to make many appearances through 1952's Push-Button Kitty. William Hanna and Joseph Barbera initially portrayed Mammy as the maid of the house, with the real owners unknown to the viewers. Later, Hanna and Barbera seemed to suggest, through dialogue and occasional behavior, that the house was Mammy's own.
Mammy was originally voiced by well-known African-American voice actress Lillian Randolph. When Turner Entertainment acquired Tom and Jerry from MGM, Thea Vidale was hired to redub the shorts with Mammy in a way that removed the character's use of a potentially offensive dialect. These versions of the cartoons are aired to this day on Turner's Cartoon Network-related cable channels, and have turned up on DVD as well. The Region 2 Complete Collectors Edition DVD box set has Vidale's voice on the first DVD and Randolph in a number of the episodes after that (such as A Mouse in the House and Mouse Cleaning).
Replacement characters for Mammy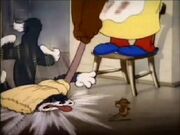 MGM Animation/Visual Arts created characters intended to be used in place of Mammy when Tom & Jerry aired on television in the 1960s. These versions used rotoscoping techniques to replace Mammy on-screen with a thin white woman, and the voice on the soundtracks was replaced by an Irish-accented voice performed by white actress June Foray.
From 1954's Pet Peeve, the owners of the animals' house were a white, middle-class couple named George and Joan. Starting with 1955's The Flying Sorceress, the audience was able to see these owners' heads.
In 1961, when Rembrandt Films began producing Tom and Jerry shorts, the owner of the house became a corpulent white man. The character was designed by Gene Deitch, who recycled the design from his Terrytoons character Clint Clobber. This new owner, whose face would turn bright red, and often derived great glee in doing so, was more graphically brutal in punishing Tom's mistakes as compared to Mammy Two Shoes, such as beating and thrashing Tom repeatedly, searing his face with a grill and forcing Tom to drink an entire carbonated beverage. "Clobber" (for want of a better name) was introduced in Down and Outing as a fisherman who owned Tom as well as their house. "Clobber" later appeared in High Steaks as a chef, and Sorry Safari as a hunter before being consequently dropped out of the picture due to his controversial role.
After his departure, Tom's owner varied, with a housewife similar to the re-edited Mammy appearing in the later Deitch short Buddies Thicker Than Water and the direct-to-DVD film Tom and Jerry: The Fast and the Furry.
In Tom and Jerry Tales, a character with a similar name (Mrs. Two Shoes) was introduced.
Appearances
| No. | Title | Released |
| --- | --- | --- |
| 1 | Puss Gets the Boot | February 10, 1940 |
| 2 | The Midnight Snack | July 19, 1941 |
| 4 | Fraidy Cat | January 17, 1942 |
| 5 | Dog Trouble | April 18, 1942 |
| 6 | Puss N' Toots | May 30, 1942 |
| 10 | The Lonesome Mouse | May 22, 1943 |
| 18 | The Mouse Comes to Dinner | May 5, 1945 |
| 28 | Part Time Pal | March 15, 1947 |
| 32 | A Mouse in the House | August 30, 1947 |
| 36 | Old Rockin' Chair Tom | September 18, 1948 |
| 38 | Mouse Cleaning | December 11, 1948 |
| 39 | Polka-Dot Puss | February 26, 1949 |
| 40 | The Little Orphan | April 30, 1949 |
| 48 | Saturday Evening Puss | January 14, 1950 |
| 53 | The Framed Cat | October 21, 1950 |
| 58 | Sleepy-Time Tom | May 26, 1951 |
| 61 | Nit-Witty Kitty | October 6, 1951 |
| 67 | Triplet Trouble | April 19, 1952 |
| 70 | Push-Button Kitty | September 6, 1952 |
Major appearances
The Lonesome Mouse - She's tricked by Tom's and Jerry's truce.
Part Time Pal - She is tormented by a drunk Tom.
Old Rockin' Chair Tom - Mammy's longest onscreen appearance. She takes a cat named Lightning.
Sleepy-Time Tom - She keeps an eye on Tom if he's sleeping on the job.
Push-Button Kitty - She orders a robocat called Mechano.
Gags
Been constantly afraid of Jerry (or mice in general) and jumping to the nearest high spot such as a chair or the balcony.
Pulling up the skirt, often pulling up, comically, many layers of skirts with distinct patterns.
Easily losing her temper with Tom's shenanigans.
Trivia
The mammy character in Disney's Three Orphan Kittens is actually named Mammy Twoshoes (note spelling) in some licensed 1930s-1950s book adaptations.
Gallery
Community content is available under
CC-BY-SA
unless otherwise noted.