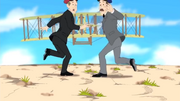 Orville and Wilbur Wright
(
Orville
: 1981 - 1948,
Wilbur
: 1867 - 1912) are two brothers, inventors, and aviation pioneers who are credited with inventing and building the world's first successful airplane and making the first controlled, powered and sustained heavier-than-air human flight, on December 17, 1903. They appeared only as statues in
The Tom and Jerry Comedy Show
episode "
Kitty Hawk Kitty
". They reappeared in
Tom and Jerry Tales
episode "
Kitty Hawked
", with them still trying to make that successful flight,
Trivia
Community content is available under
CC-BY-SA
unless otherwise noted.