The Mansion Cat is a 2001 Tom and Jerry cartoon, that premiered April 8th, 2001 on Boomerang.
Characters
Starring
Featuring
Plot
The cartoon begins with a circle showing Jerry running, but as the circle grows, it is shown that Jerry is going nowhere; Tom has captured his tail. However, when the owner calls his name, he lets Jerry's tail go, freeing Jerry back into his cage. The owner (voiced by Joseph Barbera) of Tom and a large house tells Tom he is going away for a while, the house is in perfect shape, and that he does not want Tom blaming "the mouse" (actually Jerry) for any destruction this time. Of course, this means Tom will spend most of the picture chasing Jerry around the house, causing extensive damage.
First, Tom throws the habit-rail out of the mansion, sits on the sofa, eats a lot of food stolen from the refrigerator, watches TV (Note: Muscle Beach Tom was shown on TV). Then, traditional chase and damage happen. Among the sequences: Jerry shoves Tom into a VCR, then shelves the resulting cassette-sized cat; Tom traps Jerry in a coffeemaker; Jerry traps Tom in a refrigerator, and he comes out again in ice cubes; Jerry sucks Tom and half the living room into a vacuum cleaner; Tom chases Jerry through the yard and into the house on a riding lawn mower. At the end, he crashes the mower into his owner's returning car, who tells Tom he "makes a better hood ornament than a house cat".
Trivia
Gallery
Video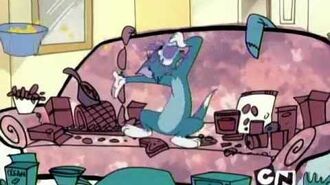 References
Community content is available under
CC-BY-SA
unless otherwise noted.