This article's about the 1975 series. For the 2014 series, see The Tom and Jerry Show (2014). It's also not to be confused with The Tom and Jerry Comedy Show.
The Tom and Jerry Show (also known as The New Tom and Jerry Show or stylized as The Tom & Jerry Show) is an animated television series produced for Saturday mornings by Hanna-Barbera Productions and MGM Television in 1975 for ABC based on the series of Academy Award-winning theatrical animated cartoons produced by MGM featuring the Hanna Barbera created cat and mouse duo, Tom and Jerry. Here, in a much toned down, no action, Yogi Bear/Boo Boo-esque format (in order to satisfy ABC-TV Broadcast Standards and Practices), the long-popular Tom and Jerry, after years of rivalry, have become the best of friends (and Jerry dons a red bowtie, so the animators would be able to "fragment" his movements), in episodes wherein they roamed the world competing in sports, enduring on-the-job misadventures, running afoul of dastardly villains, solving mysteries and helping others. Big and Hairy, a popular Warner Bros. and Moron Comics series, is a parody of Tom and Jerry. In one episode they meet Dr. Jekyll and Mr. Hyde. The series was later cancelled the same year this series came out due to angry complaints from fans, explicitly dismissing the aspects of this show from the series.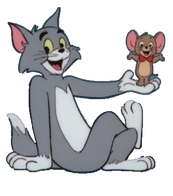 Episodes
See the List of The Tom and Jerry Show (1975) episodes.
Reception
Critical reception
The show was given mixed to negative reviews due to the lack of slapstick, violence, having Tom and Jerry as friends, the lack of quality and perfectly written episodes, the poor grasp (or ignorance) on the source material, low budget animation, and the fact this cartoon was made in the time where cartoons have to follow all television regulations in the past. This makes the concepts in this show to be explicitly dismissed from the series.
Trivia
The characters from the original MGM shorts, e.g. Toodles Galore, Butch, Lightning, Topsy, Meathead, Tyke, Nibbles Mouse, Mammy Two Shoes, George and Joan never appear in this show.
Jerry wears a red bow tie which also appears in Tom and Jerry Kids.
This's the first Tom and Jerry TV show to come out.
This show never had a complete series DVD box set, along with its successor, The Tom and Jerry Comedy Show, which all gained negative attention.

However, some episodes were included in the Saturday Morning 1970s DVD set back in 2009 and the 70th Anniversary box set back in 2010.
Gallery
Click Here.