This article is about the 1975 series. For the 2014 series, see The Tom and Jerry Show (2014). It's also not to be confused with The Tom and Jerry Comedy Show.
The Tom and Jerry Show (also known as The New Tom and Jerry Show or stylized as The Tom & Jerry Show) is an animated television series produced by Hanna-Barbera Productions and MGM Television. The show aired on ABC in 1975.
Plot
In this show, Tom and Jerry (who wears a red bow tie) spend various episodes doing things like roaming the world, competing in sports, enduring on-the-job misadventures, running afoul of dastardly villains, solving mysteries and helping others. While the show doesn't use the chases and the violence central to the theatrical shorts (due to ABC's Broadcast Standards and Practices at the time), the two do compete against each other in some episodes.[1]
Voice cast
John Stephenson – Tom, Jerry, Macho Cat, Cosmic Cat, Spike, additional voices
Don Messick – Quacker, Meteor Mouse, Spike, additional voices
Additional voices
Henry Corden – Weirdbeard the Pirate
Kathy Gori – Katy O'Kitty
Alan Oppenheimer –
Joe E.Ross – Spike
Jean Vander Pyl –
Janet Waldo – Female Cat
Lennie Weinrib –
Frank Welker –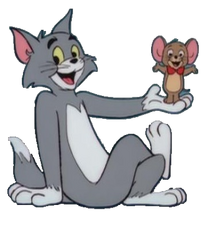 Episodes
See the List of The Tom and Jerry Show (1975) episodes.
Reception
Critical reception
The show was given mixed to negative reviews due to the lack of slapstick, violence, having Tom and Jerry as friends, the lack of quality and perfectly written episodes, the poor grasp (or ignorance) on the source material, low budget animation, and the fact this cartoon was made in the time where cartoons have to follow all television regulations in the past.
Availability
This show never had a complete series DVD box set, along with its successor, The Tom and Jerry Comedy Show, which all gained negative attention.
However, some episodes were included in the Saturday Morning 1970s DVD set back in 2009 and the 70th Anniversary box set back in 2010.
With the launch of the Boomerang streaming service in 2017 not only were most of the theatrical shorts included but so was this series, as well as The Tom and Jerry Comedy Show, however they were all confusingly listed as the same series, despite being different shows. The app includes almost every episode of the series, except for "Gopher Broke" "Grim and Bear It" "The Flying Sorceress" "The Egg and Tom and Jerry" and "The Lost Duckling".
Trivia
Most of the characters from the original MGM shorts, e.g. Toodles Galore, Butch, Lightning, Topsy, Meathead, Tyke, Nibbles Mouse, never appear in this show.
Jerry also wears a red bow tie in Tom and Jerry Kids.
This is the first 100% original Tom and Jerry TV show to come out, as the previous series was simply a showcase of the original shorts.
For the first time, they do not fight in this series and only fight in some episodes.
Gallery
Click Here.
References
Community content is available under
CC-BY-SA
unless otherwise noted.