Jurassic World: Dominion Dominates Fandom Wikis - The Loop
Play Sound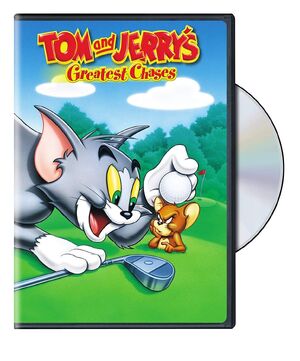 Tom & Jerry's Greatest Chases (initially known as Tom & Jerry's Greatest Chases Vol. 1) is a DVD and VHS compilation of 14 Tom and Jerry shorts and was the first installment of the series.
Release Date
March 14, 2000
Description
The fast and furr-ious Tom and Jerry are at again. They cause fireworks in Yankee Doodle Mouse, hit the beach in Salt Water Tabby, tear up the links in Tee for Two, and crack the ice in Mice Follies. Tom plays a piano in The Cat Concerto, plucks strings in Solid Serenade, and lends vocals to Zoot Cat, while Jerry duets in Johann Mouse. Jerry transforms in Dr. Jekyll and Mr. Mouse, and becomes a Mouse in Manhattan. Meet their new friends in Jerry and the Lion, The Little Orphan, Kitty Foiled, and learn cat-trapping secrets in Jerry's Diary.
VHS Contents
FBI Warning Screen
Warner Bros. Family Entertainment Century Collection 2000 Preview
Scooby-Doo Meets the Boo Brothers Preview
Pokémon: The First Movie Preview
The Powerpuff Girls Videos Preview (Coming Soon On Video)
Scooby-Doo and the Alien Invaders Trailer
Batman Beyond: Return of the Joker Trailer
1997 Warner Home Video Logo
Tom & Jerry's Greatest Chases Title Card
DVD Cartoons
Bonus Features
An excerpt from Anchors Aweigh.
Trivia
The cover is based on Tee for Two.
Mouse Trouble clip was shown on Jerry's Diary, but not including the full episode (until Volume 2).
This is the only Greatest Chases compilation to be released on VHS.
The previews from this VHS are the same previews as Yogi Bear: Love Bugged Bear, Yogi the Easter Bear, The Flintstones: Hooray for Hollyrock, The Flintstones: Babe in Bedrock, The Flintstones: Fearless Fred Strikes Again, The Flintstones: Wacky Inventions, The Flintstones: Love Letters on the Rocks, The Flintstones: I Yabba-Dabba Do!, The Flintstones: Fred Takes the Field, The Flintstones: Dino's Two Tales, The Flintstones: Stone-Age Adventures, Tom and Jerry: Wild and Wacky Adventures and Tom and Jerry: Festival of Fun 2000 VHS