Jurassic World: Dominion Dominates Fandom Wikis - The Loop
Play Sound
The Tom & Jerry Halloween Special was a 1987 animated/live action television compilation special that aired in prime-time on TBS. This holiday special was a spin-off of a programming block entitled Tom and Jerry's Funhouse on TBS. The Halloween Special's wraparounds were live action segments hosted by Josh Jarboe and Audra Lee, two youths dressed in various Halloween costumes.
The hosts appeared in a haunted house where they would introduce the show's animated shorts, tell Halloween-related jokes, scare each other, give trick-or-treating safety tips, and tell stories related to the history of All Hallow's Eve. The animated segments included shorts starring Tom and Jerry, a spirit resembling Casper the Friendly Ghost, Bugs Bunny and Popeye. The special originally aired on Friday, October 16, 1987 on TBS. Subsequent airings ran annually until 1992, usually showing on weekends leading into Halloween.[1][2][3]
Segments
Short
Series
Originally
released
Synopsis
The Flying Sorceress
Tom & Jerry
1956
Tom answers a want ad for a witch and uses her magic broom to get even with Jerry.
Ghost Wanted
Merrie Melodies
1940
A young ghost (bearing resemblance to

Casper the Friendly Ghost

) answers a ghost wanted ad, and is consistently terrified by his ghostly interviewer upon arrival.
Haunted Mouse
Tom & Jerry
1965
When Jerry's magician/hypnotist cousin comes to visit, they use his magic tricks to get the better of Tom.
Hair-Raising Hare
Looney Tunes
1946
After Bugs Bunny is lured to a creepy castle, a mad scientist sics a red, hairy monster named Gossamer after Bugs.
Ghosks is the Bunk
Popeye the Sailor
1939
Bluto lures Popeye and Olive Oyl to an abandoned hotel where he tries to scare them with elaborate ghost effects.
Fraidy Cat
Tom & Jerry
1942
After Tom gets frightened by a ghostly radio drama, Jerry decides to take advantage of Tom's fears with elaborate ghostly pranks.
Cast & Crew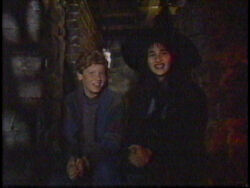 Hosts: Josh Jarboe & Audra Lee
Produced By: Marilyn Ringo, Bud Wendling
Directed By: Bud Wendling
Videographer: Rafael Ortiz-Guzman
Field Audio: Dennis Bassarab
Lighting Director: Bob Wheeler
Field Crew: Hal Kickliter, Tim Smith
Production Assistant: Cydny Cecil
Location Shooting: Template:W, Atlanta
Special Thanks: Tommy Jones and the Staff of "The Haunted Castle," Rhodes Hall
Electronic Artist: Bill Chapman
Graphic Artists: Jeffrey Archer, Chuck Brock, Amy Davis, Scott Linder
CMX: David Winston
Audio Production: Charles R. Humbard, Rob Mason
Post Production Audio: Patrick Thorton
Electronic Graphics: Alice Airth
Copyright: 1987 Turner Broadcasting System
Releases
Although the six animated shorts are available in various formats, the special itself has never been released on any format.
References