Jurassic World: Dominion Dominates Fandom Wikis - The Loop
Play Sound
Tom and Jerry: The Classic Collection is a series of DVD sets released by Warner Home Video featuring Tom and Jerry.
These DVDs are available in 6 double-sided DVDs (issued in the United Kingdom) and 12 single-layer DVDs (issued throughout Europe and Australia).
The DVDs in the UK were re released as 'Collector Editions
None of the cartoons in the set have been restored; all were sourced by TV prints created by Turner Entertainment in the 1990s for Cartoon Network and Boomerang airings. Some of the cartoons in these DVD sets are censored due to perceived racial stereotypes.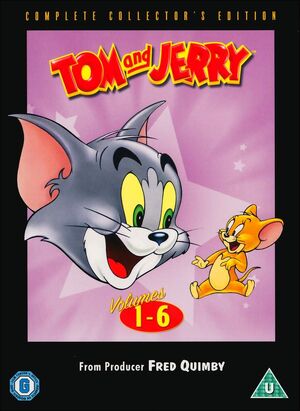 Most shorts produced in CinemaScope are presented in pan and scan for showing on the 4:3 aspect ratio television screen.
Key

2 denotes widescreen cartoons put in pan and scan
3 denotes Oscar winners
4 denotes edited TV prints
Volume 1
Released on 5 April 2004 (UK version)
Collector's Edition released on 12 April 2004
Side 1 (Volume 1)
Side 2 (Volume 2)
Volume 2
Side 1 (Volume 3)
Side 2 (Volume 4)
Volume 3
Normal version released on 28 Jun. 2004
Collector Edition released on 28 Jun. 2004
Side 1 (Volume 5)
Side 2 (Volume 6)
Volume 4
Normal version released on 26 July 2004
Collector Edition released on 28 Jun. 2004
Side 1 (Volume 7)
Side 2 (Volume 8)
Volume 5
Normal version released on 23 Aug. 2004
Collector Edition Release Date: 18 Oct. 2004
Side 1 (Volume 9)
Side 2 (Volume 10)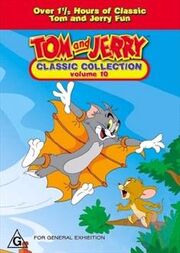 Volume 6
Normal version released on 27 Sept. 2004
Collector Edition Release Date: 18 Oct. 2004
Side 1 (Volume 11)
Side 2 (Volume 12)
Other notes on set
References