Welcome to the Tom and Jerry Wiki!
Welcome to the Tom and Jerry Wiki! We are currently editing over 1,822 pages, and 11,685 files, and YOU CAN HELP!
Featured Article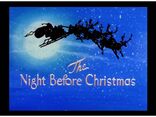 The Night Before Christmas is a 1941 one-reel animated cartoon and is the 3rd Tom and Jerry short directed by William Hanna and Joseph Barbera, and produced by Fred Quimby. As was the practice in original issues of MGM animated shorts at the time, only Hanna and Barbera are credited. It was nominated for the 1941 Academy Award for Best Short Subject: Cartoons, but lost to the Mickey Mouse short film Lend a Paw, making it the only time a Tom and Jerry film lost to a Disney film. It was released to theaters on December 6, 1941 by Metro-Goldwyn-Mayer.In a house on the night before Christmas, nothing was stirring, not even a mouse...or so it was at first. Jerry emerges from his hole avoiding a Christmas-themed mousetrap (already baited with a piece of cheese wrapped in a red ribbon) placed by his hole. Jerry quickly heads for the Christmas presents, jumping merrily around the tree, licking candy canes, and jumping onto a plush toy lion that squeaks. Jerry continues jumping on the soft toy, but bounces too hard and lands on what he thinks is another soft toy. Jerry jumps up and down on the grey fur, not realizing that he is jumping on, in fact, Tom, who has woken up. Tom snarls and just before he can eat Jerry, the quick-thinking mouse grabs a nearby "Do Not Open 'Til Xmas" sticker and instantly places it on Tom's mouth. Read More.
News
Affiliates
Make sure to check out our affiliates! If you're interested in affiliating with the Tom and Jerry Wiki, please contact an admin or leave a request here.

Other Cartoon Network/Boomerang Wikis
Did you know?
Any Questions?
Featured Poll sponsored by COCA-COLA
Community content is available under
CC-BY-SA
unless otherwise noted.